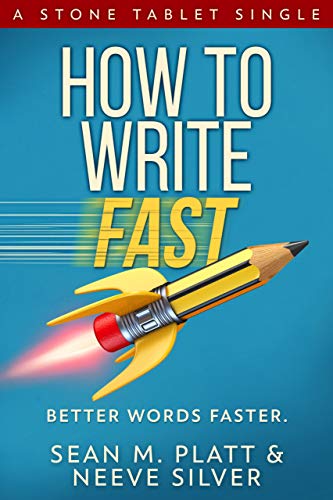 I picked up Sean Platt's new productivity book last week, which he co-wrote with Neeve Silver.  How to Write Fast didn't hold any super big surprises for me except one, which I'll get to in a minute.
You might be thinking:  "Oh no!  Not another book on writing fast/writing more!!"
Fair statement.  I think I have dozens of them now, plus there's podcasts and whole sites (beside this one) devoted to getting more words down and books out.
Ten years ago, no one was talking about writing fast.
Now, everyone is.
The virtue of yet another book about writing fast is the author's unique perspective on the topic.  I am always interested to learn how authors think about and systematize prolificacy.  Every single book has one or two nuggets of useful information: a hack for getting more done, a different philosophical slant.  Some are just flat out inspiring.  Those, I re-read.
If you want to write faster and produce more books, then devouring all the resources you come across will give you options, ideas, and hacks to try and that is all good grist that will help you achieve your productivity goals.  You never know which book or post or podcast will work for you and your processes.  It pays to try them all.
But let me get back to the surprise in this one.
The surprise was the attitude and statements in the book that writing fast is an evolution in the industry and now a requirement for indie authors.
It was a surprise for two reasons.
I've considered prolificacy an option for authors, always.  I believe you can choose to want to write as much as possible, or aim for an easier longterm pace that better serves your personal priorities.  Platt & Silver's assertions imply that it isn't optional anymore.
That Platt & Silver consider the necessity for prolificacy to be a new development.
I'm still thinking about #1.   I believe that writing and publishing swiftly is a strategy that authors with ambitions to quit their day job or increase their income should adopt, yes.  But not all authors want to make fiction writing their sole careers and full time occupations.
However, that wouldn't be anyone reading this blog on a regular basis.
For us, prolificacy should be considered an essential strategy.
At the top of this post, I said:
"Ten years ago, no one was talking about writing fast.  Now, everyone is."  But this isn't the first time in publishing when writing fast was a thing.
A little over a hundred years ago, the pulp fiction industry was kicking into gear.  Pulp writers earned one or two cents a word.  To make decent money, they learned to write ridiculously fast.  10K word days were common…and this was on typewriters, too!
Earle Stanley Gardner gamed the system by making sure that every time he mentioned a character, he used both names.  Perry Mason.  Della Street.  With that simple trick he doubled his money for the one character mention.
Writers who could write very fast would have a dozen different pen names, and wrote in all the genres going.  They were fiction factories all by themselves.
They were so busy being prolific that they didn't talk about it all that much.  There is next to no how-tos for authors from that period.
Now we're back in the second pulp era, writing fast has become a necessity again.
If you haven't yet found a mindset or system that works for you, give How To Write Fast a go.
Cheers,
[fusion_separator style_type="shadow" hide_on_mobile="small-visibility,medium-visibility,large-visibility" class="" id="" sep_color="#000000″ top_margin="" bottom_margin="" border_size="" icon="" icon_circle="" icon_circle_color="" width="" alignment="center" /]
.
Take my stories on a test run.  4 full novels free.  Sign up below.